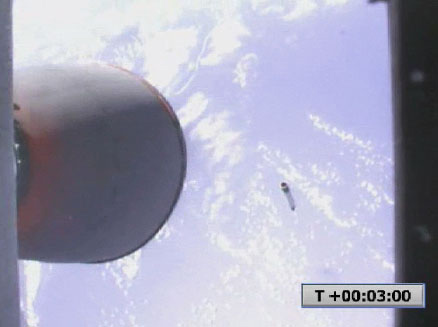 The second
test flight of the privately-built
Falcon 1 rocket failed to reach its intended orbit late Tuesday, nearly one
year to the day of the booster's ill-fated
spaceflight debut.
The
two-stage Falcon 1 rocket shot spaceward [image]
from its Pacific
island launch site at 9:10 p.m. EDT (0110 March 21 GMT), but suffered a
roll control malfunction 186 miles (300 kilometers) above Earth before completing its flight plan,
its Space
Exploration Technologies (SpaceX) builders said. The rocket was intended to
end its mission about 10 minutes after liftoff at an altitude of about 425 miles
(685 kilometers).
VIDEO: SpaceX's Homegrown Falcon 1 Rocket's Second Flight
"We did
encounter, late in the second burn, a roll control anomaly," SpaceX
CEO Elon Musk told reporters, after the more than five-minute spaceflight. "But
that's something that's pretty straightforward to address."
The roll
control glitch affected how the Falcon 1 booster's second stage controlled
itself in flight, sending the vehicle on a path that likely reentered the Earth's
atmosphere over the Pacific Ocean without completing a full orbit, Musk said. The
malfunction could have been due to a range of issues, such as helium leak or a
roll control jet glitch, but only a subsequent analysis will root out the cause,
he added.
The
off-nominal spaceflight capped a drama-filled countdown that included payload communications
glitches and one pad abort a half-second after the Falcon 1 rocket's engine
ignited. Each of those issues was eventually resolved, and the rocket — initially targeted for a 7:00 p.m. EDT (2300 GMT) liftoff after a Monday scrub — was again readied for launch within its four-hour flight window.
"This was a
pretty nerve-wracking day," Musk said. "The rocket business is definitely not a
low-stress business, that's for sure, but I don't think I'm disappointed. In
fact, I'm pretty happy."
The fact
that the Falcon 1 rocket lifted off from its Kwajalein Atoll launch site in the
Pacific Ocean, experienced successful first-stage and payload fairing
separations [image]
— as well as the ignition of its second stage — proved that hundreds of
booster improvements incorporated into the vehicle since its first
March 2006 failure were a success, the SpaceX chief said.
"We
successfully reached space, and really retired almost all of the risk
associated with the rocket," Musk added.
A
successful demonstration
SpaceX
launched the Falcon 1 rocket primarily as a demonstration for the U.S. Defense
Advanced Research Projects Agency to prove the booster's capabilities, though
the rocket also carried a 110-pound (50-kilogram) set of experiments, including
an automated flight safety system, low-cost satellite communications transceiver,
and mechanical payload adapter ring.
"We, in the
Washington D.C. office are celebrating with champagne," Gwynne Shotwell,
SpaceX vice president of business development, told reporters after the launch.
"Falcon 1 clearly got to space."
Tuesday's launch
marked SpaceX's second Falcon 1 test flight after a fuel
leak and fire led to the failure of its inaugural space shot last year [image].
Initially attributed to human error, the failed launch was ultimately found to
be the result of a corroded aluminum nut, prompting the El Segundo,
California-based firm to institute a host of rocket
and ground facility improvements.
"It didn't
take us one year to build the new rocket," Musk told SPACE.com before Tuesday's
space shot. "The delay of one year was used to allow us to develop the Falcon
1, version two."
Standing
about 68 feet (21 meters) tall, SpaceX's Falcon 1 rocket is a two-stage booster
designed to carry satellite payloads of up to 1,256 pounds (570 kilograms) into
low-Earth orbit for a flat price of about $7 million per space shot.
The rocket's
first stage is designed to be reusable, and carries parachutes to slow its
descent and make a splashdown landing in the Pacific Ocean for later retrieval and
refurbishment.
"The first
stage should be currently floating around the Pacific Ocean, with our recovery
boat in hot pursuit," Musk said after Tuesday's launch.
Flights should
resume
Musk said
has said repeatedly that he firmly believed that any serious glitch to afflict the
second Falcon 1 test would not prompt another one-year delay in flights.
SpaceX
plans to launch at least two more Falcon 1 rockets this year, including a
summer space shot to orbit the U.S. Naval Research Laboratory's TacSat-1
satellite and a third mission to launch Malaysia's Razaksat Earth-observation
satellite. Both customers have pledged to stand by SpaceX, with the Razaksat
team offering a hearty congratulations following Tuesday's liftoff, SpaceX
officials said.
"We feel
like there's really no need for an extra test flight," Musk told reporters.
SpaceX's
Falcon 1 rocket is not only aimed at providing low-cost satellite launches. It
also serves as a precursor to the launch firm's planned Falcon 9 rocket, a
heavy-lift booster currently under development to loft the firm's manned Dragon
spacecraft.
VIDEO: SpaceX Simulates Dragon's Flight to ISS
Slated to
make its first test flight in 2009, SpaceX's Dragon vehicle is the launch firm's
entry in NASA's Commercial
Orbital Transportation System (COTS), a program aimed at finding private crew and
cargo services to support the International Space
Station (ISS). But those future Falcon 9 flights are linked to the success
of Falcon 1, Musk has told SPACE.com.
Patti Grace
Smith, the Federal Aviation Administration's associate administrator COTS,
wished SpaceX and their Falcon 1 rocket luck during Tuesday, as did NASA administrator
Mike Griffin.
"I've got all fingers and toes crossed hoping that it works," Griffin told Space
News, a sister publication to SPACE.com, following his address at
the 45th Robert H. Goddard Memorial Space Symposium in Adelphi, Md.
Musk said
that despite the early end to today's spaceflight, he considers the test a
success and looks forward to the upcoming Falcon 1 missions.
"I think it's
fair to characterize this as a success and a good day," Musk said. "Not a
perfect day, but a good day."
Space
News Staff Writer Brian Berger contributed to this report from Adelphi, Maryland.
VIDEO: SpaceX's Homegrown Falcon 1 Rocket's Second Flight
VIDEO: SpaceX Simulates Dragon's Flight to ISS
Top
10 Imaginations at Work: Elon Musk
IMAGES:
Twenty Great Rocket Launches
SpaceX
Poised to Launch Second Falcon 1 Rocket
Falcon
1 Failure Traced to a Busted Nut
SpaceX's
Inaugural Falcon 1 Rocket Lost Just After Launch
Explore
SPACE.com's Spaceflight Archive